Happy hours are known for happening before dinner, discounted food and drinks, and good times. Texans truly know how to have a good time, and these downtown Austin happy hours are prime examples.
1. La Piscina
On the fifth floor of Austin Proper Hotel, you can enjoy cocktails poolside at La Piscina. With expansive views of downtown's glistening lights, this vibrant hotspot is the perfect place to relax after work.

Their menu includes an array of draft beer, handcrafted cocktails, wines both still and sparkling, and a variety of mocktails, so there is truly something for everyone. Grab a plate of Baja-style oysters, Piscina nachos, yellowfin tuna crudo to share with the table.
2. The Roosevelt Room
The Roosevelt Room has been serving downtown Austin's historic warehouse district since 2015, but the cocktail bar and event space have all the classic feel of the building's era —1929 to be exact. Customers can expect to walk into the welcoming community atmosphere and be greeted by the motto "Cheers to you!" And the staff means it.

Grab a refreshment from an expansive list of cocktails, spirits, beer, and wine or snacks on one of their select small or large food items. Happy hour runs until 7 p.m., with eight classic cocktails, $2 off wines by the glass, and $2 off large food items. Reduced price beers and small food items are available as well.

Try one of their house creations, the Too Little, Too Late, a tropical blend of Arette Blanco Tequila, red grape, Thai basil, coconut, honey, jasmine water, lychee juice, and verjus.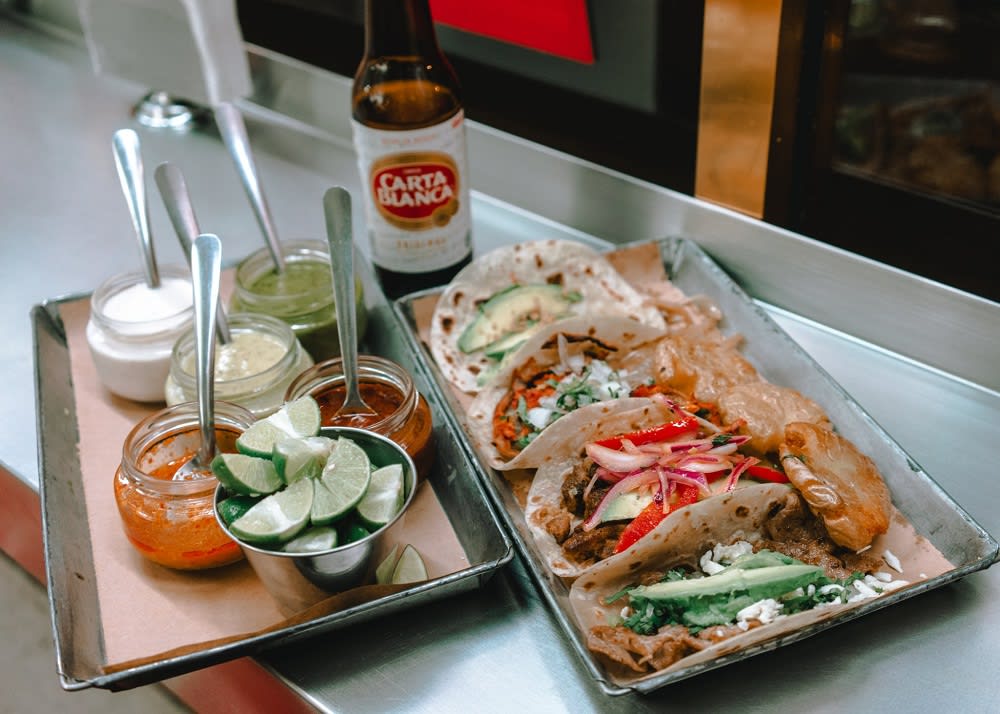 3. Upstairs at Caroline's
Austin locale Caroline's is open for homemade breakfast until dinnertime, with a selection of coffee blends from the Austin coffee roaster Little City, homemade baked goods, and juices made daily. Dog lovers are fans of Caroline's because it is completely pet-friendly. Not only are pooches welcome, but there's even a healthy dog menu that includes entree options and a delectable dessert!

When guests head upstairs, they'll enter an urban backyard party scene where they can catch a sports game or enjoy some friendly competition with foosball, cornhole, or giant Jenga. Happy hour runs from 4 to 7 p.m. with rotating specials each day of the week. So shake off the workday blues and have a brisket taco for $2 on Taco Tuesday, or celebrate the approaching end of the week on Thirsty Thursday with $4 draft beers.

Friday is Funday at Caroline's! A special happy hour takes place from noon to 3 p.m. with discounted beer and tacos. From 11 a.m. until 2 p.m. on Sundays, bring your best pooch friend and receive 25% off all day long.
4. Perla's
You'll love Perla's Seafood & Oyster Bar anytime, but you don't want to miss its happy hour. This lively cantina hosts happy hour from 3 p.m. to 6 p.m. Tuesday through Friday, and you can enjoy $5 off oysters and $2 off drinks. Their dazzling menu of coastal-inspired cocktails and extensive beer and wine lists will keep the libations coming all evening. The Afternoon Snacks menu pairs perfectly with happy hour, with options like fried calamari and peppers, a decadent lobster roll, and half-shell oysters.

Since 2009, this fantastic oyster bar and seafood restaurant has thrived on South Congress Avenue. With both coasts represented on the menu, you can enjoy a taste of the Gulf of Mexico, Atlantic Ocean, and Pacific oceans all in the same night. Enjoy the evening out on the patio beneath the shade of mature oak trees, or dine inside in their breezy dining room.
5. La Condesa
This James Beard Award-nominated restaurant is steeped in Mexican culture, from the house-made masa to one of the largest collections of 100% blue agave tequila and mezcal in Austin and their dedication to showcasing food from the region.

2021 is a special year for La Condesa: it's the year of the Torta! Every month a new torta will be put on special, with a portion of the proceeds going to charity causes. Executive chef Rick Lopez brings a modern flair to traditional Mexican dishes.

As a partner of The Farm Project, Lopez works closely with farmers, ranchers and regional producers to provide fresh food to customers. You can attend happy hour from 4 to 6 p.m. Wednesday through Saturday and pay half price for signature cocktails such as the Watermelon Martini, made with vodka, elderflower liqueur, watermelon and elderflower gelatin foam.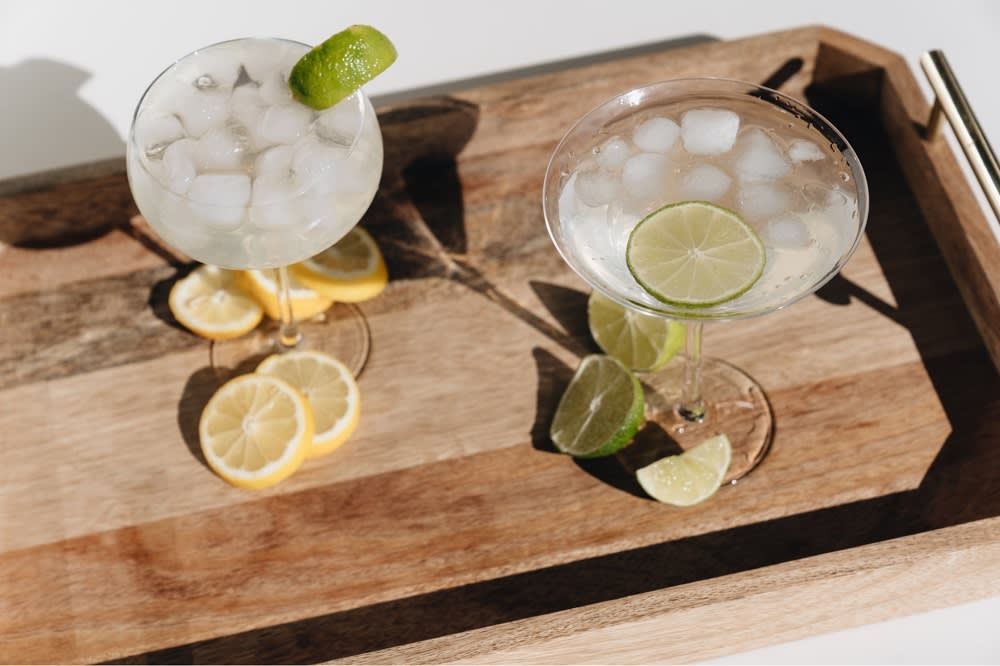 6. Jeffrey's
Jeffrey's is a sophisticated and sleek restaurant where you can enjoy drinks in a stunning dining room. This Clarksville staple is an excellent choice for an upscale toast, and their vast drink selection has a variety of flavor profiles.

Pair your evening glass of wine with caviar service or one of the extravagant entrees on the dinner menu. It wouldn't be a night at Jeffrey's without one of their famed dry-age steaks. All steaks and racks are aged and cut locally, and then grilled over live oak for a distinct flavor. Then, they are finished to perfection in a 1200° broiler. Make a reservation in the bar area, my favorite!
7. Clark's Oyster Bar
This upscale seafood restaurant is a local hotspot. Maybe it's the emphasis on fresh, local products, the simple preparation, or the oysters, but Clark's Oyster Bar is a can't-miss destination.

Guests seated indoors can enjoy looking into the open kitchen while their food is prepared or sit outside and soak up the gorgeous Texas weather. Parking downtown can be a hassle, so utilize Clark's private parking lot and make eating downtown stress-free. Happy hour runs daily from 3 to 5 p.m. and features 50 cents off oysters and $2 off beverages. Clark's serves oysters and fish sourced from small harvesters around North America to give customers the freshest ingredients they can find. Try one of 16 different oyster offerings, an option from the cold bar, a catch of the day selection, or 30 to 50 grams of sustainable caviar.

You don't have to be a resident of Austin to enjoy its happy hours, but with the gorgeous Texas weather, the good times, and the great drinks, why wouldn't you want to be here year-round?


Downtown Austin condos are an excellent option for those who love to have easy access to all of their favorite downtown venues. For families and homebuyers who want a bit more space, contact an Austin luxury realtor today. You can also check out Zilker homes for sale or homes for sale in Tarrytown — both are just a 10-minute drive from downtown. Contact Austin luxury realtor Leslie Gossett today and find the residence that will suit your every need.